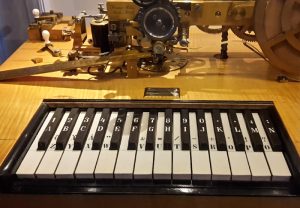 This is a lovesong to, and a parody of, german music; from Karlheinz Stockhausen and Conny Plank, to Kraftwerk and Rammstein, who all have had an influence on all modern music and musicians.
One version is produced by the futurepop/Industrial/electro icon Assemblage 23/Tom Shear; the idea started out in his crowfunding project.
This song is very different compared to what I have done earlier, and I bet this will surpise you in more than one way;
One thing is that I "sing" solo on an recording for the first time, also that I'm a into the land of EBM/industrial with some guitar combo. Inspired also by Ultravox, themselves inspired by the german krautrock scene.
The song started out as my contribution to "the Challenge" (read more about it here)
Listen, download, enjoy and comment!

Hitmusik aus Deutschland – original version
Commuterpop feat. Assemblage 23 – Hitmusik aus Deutschland